Want an eShop to compete with the big boys without breaking the bank? Fear not. We specialise in entry level eCommerce websites that
still pack a punch.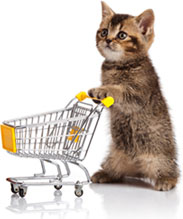 Selling products and services online is something many business owners dream of. We'd all love a big slice of the online profit pie - and it's true that an online shop can become an important part of your business, in some cases even overtaking traditional sales. eCommerce websites that fly the Stripey flag tick all the boxes in terms of professional design, easy maintenance and security - so what are you waiting for? You could be selling online in no time.
Coba Hair Salon

Stylish hair salon Coba needed an eShop which would link seamlessly with their existing brochure website. The understated design, married to bold typography, steps up to the mark with aplomb, ensuring regular product sales.

Burns Animal Foods

With a well-carved niche market business producing quality pet treats, Burns Animal Foods were ready to market to a wider audience. We created them a stylish and accessible online shop which does just that.

Witches Galore

Witches Galore is a specialist shop nestling in the shadow of eerie Pendle Hill in Lancashire witch country, who wanted to bring their spooky merchandise to a wider audience via an eShop. The result is a real Stripey success story!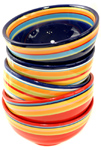 Our feature rich core eCommerce website starts at just £3450 plus vat and, whether you're selling boiled sweets, designer clothing or cereal bowls, includes everything you'll need to start stocking it with your products, then promoting it.
The core shop functionality that comes with our entry level eCommerce website solution:
Standard pages: Terms and Conditions, Privacy Policy, Shipping and Returns, Contact Us
Secure administration area
Administration control panel (recent customers, recent orders, statistics overview, orders by status)
Product and category management (add, edit, delete)
Product attributes (ability to have different colours, sizes etc. on the same product with corresponding price changes)
Manufacturer / brand management (add, edit, delete)
Changeable featured products (shown on homepage)
Image management (product / category)
Global fixed postage cost
Order manager (change status, notify customer)
Customer manager (edit, delete)
Email customer (send simple email to all customers or groups of customers)
Three reports (most frequently viewed products, most frequently purchased products, top spending customers)
Who's online (see who is currently active on the site)
Invoices and packing slips
Email notifications (new order, customer registration etc.)
Integration with PayPal for payment processing
Ability for customer to create account
Record newsletter preference for customer
Basket and checkout functionality for customer
Ability for customer to view orders on website
Ability for customer to change details (address, contact details)
Ability for customer to enter further details on an order
Search engine friendly URLs
Site search facility
Bespoke homepage
Then simply tell us which add-ons you would like...
(there are too many to list here - if you can't see what you want, please ask!)